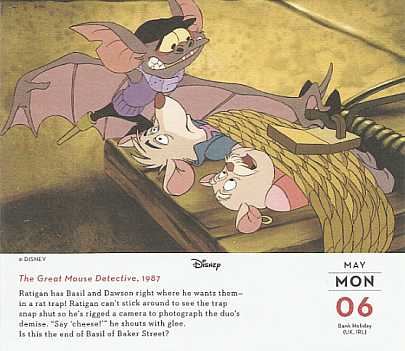 Basil: Sorry I missed you, but I'm all tied up!
When getting home around 12:30 in the morning, I flipped my Disney desktop calendar to May 6th and it got a small chuckle out of me. I'd say an image of Basil and Dawson tied up is somehow fitting for a Monday. It put me to mind of office workers trapped in business suits and being stuck in a cubicle eight hours a day. I have a slight sympathy for those who drank one too many margaritas on Sunday, or rather Cinco De Mayo!

Well, anyway, today is also the birthday of some people I know pretty well. The first to note is Gaston Leroux. That name should sound familiar to some of you.

Born in 1868, he is best known for writing "The Phantom of the Opera" (or Le Fantôme de l'Opéra, respectfully). TPOTO was first published in 1911, over one hundred years ago, with many book, stage, TV and movie adaptations. Quick question, does anyone know any of his other books, let alone read them?

If you're curious to know what he looks like, here's a photo I found of him at dA:
Image courtesy of

Next is our voice actor friend, Wally Wingert. He turns 52 today. It's kind of amusing to think that he shares his birthday with Mr. Leroux when my sister and I met him while at a Phantom/Star Trek/Beauty and the Beast convention! Not only that, he was dressed as the Andrew Lloyd Webber musical version of the Phantom! I have a photo of me posing with him in my own dA gallery:
Some other notable birthdays:

George Clooney, 52

Tom Bergeron, 58 ("Dancing with the Stars" host)

Dana Hill, voice of Max from "Goof Troop," would have been 49

Orson Wells, would have been 98. I'm using an icon of Brain from "Pinky and the Brain" because the character looks and sounds like him. Maurice LaMarche, whom voices Brain, also dubbed for the Orson Wells character in
Ed Wood
.